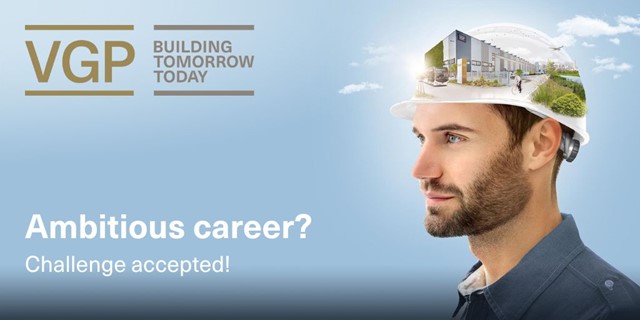 Junior Property and Facility specialist (m/f/x) - Italy
The Company
VGP is a leading pan-European developer, manager and owner of high-quality logistics and semi-industrial real estate. VGP operates a fully integrated business model with capabilities and longstanding expertise across the value chain. From layout to technological solutions, our service offerings include the development of "build-to-suit" solutions to meet our clients' specific needs. We also provide supervision of the construction work until delivery of the turnkey-project buildings, long-term leasing, and facility management.
Founded in 1998 as a Belgian family-owned real estate developer in the Czech Republic, VGP with a staff of circa 370 FTE's today is active in 17 European countries directly and through several 50:50 joint ventures. As of June 2023, the Gross Asset Value of VGP, including the joint ventures at 100%, amounted to € 6.76 billion and the company had a Net Asset Value (EPRA NTA) of € 2.2 billion. VGP is listed on Euronext Brussels (ISIN: BE0003878957). For more information, please visit: http://www.vgpparks.eu 
Context
VGP Italy is looking for a motivated and innovative Junior Property and Facility specialist to handle our properties in collaboration with our Property and Facility Manager.
The ideal candidate will be responsible for the management of both ordinary and extraordinary maintenance activities, the support during the selection of suppliers and the negotiation and formalization of contracts, in full compliance with VGP's policies and with the aim of satisfying our customers' needs.
The candidate will be placed in the Italian office and will have to report to the Property and Facility Manager and the Country Manager.
For our Italian office in Segrate (Milan) we are currently looking for a:
Junior Property and Facility specialist

Job Description:
Oversee operations and property maintenance, establishing and maintaining standards, goals, objectives, and priorities and ensuring the Portfolio is always maintained in perfect conditions.
Monitoring of the annual asset budget.
Planning, following and management of ordinary and extraordinary maintenance activities of the buildings.
Renewal of Fire Fighting Authorizations and coordination of emergency procedures.
Renewal of all national or local authorizations with the Municipality or Authorities in charge.
Support during the selection and procurement process of contractors providing services at assets.
Carry out routine, minimum fortnightly/monthly, property inspections and monthly reporting.
Monthly onsite control of the activities foreseen in the maintenance plan.
Management of shared documents and folders.
 Skills, Knowledge and Experience:
At least 2 years of experience in property and facility management.
Degree in technical subjects.
Talent in negotiations and networking.
In-depth knowledge of preparing and reviewing contracts, invoicing, and negotiation terms.
Proficient in Microsoft Office Suite.
Management skills, and multi-tasking and time-management skills, with the ability to prioritize tasks.
Highly organized and detail oriented.
Excellent analytical and problem-solving skills.
English fluent mandatory
Personal Attributes
Problem solving, planning, organizing and analytical skills with the ability to solve complex issues.
Good communication and interpersonal skills for liaising with internal and external clients at all levels. Competencies include: Interpersonal Abilities, Planning and Organizing, Problem Solving & Analytical Thinking.
 General Conditions and Remuneration
Location: office based in Segrate (Milan)
Term of Contract: permanent
Contractual Framework: to be agreed
NCLA: CCNL terziario della distribuzione e servizi
Remuneration: Salary to be agreed
To apply send your resume only in English to: vgpitaly@vgpparks.eu
By sending your CV and any other personal information to the above e-mail address, you explicitly consent to the respective VGP entity processing those of your personal data, which you will provide, and to use such personal data for the purpose of evaluating your job application, as well as for the purpose of archiving such personal data for a period of three years from the date of receipt of the information. For further information, please see our Personal Data Protection Policy.