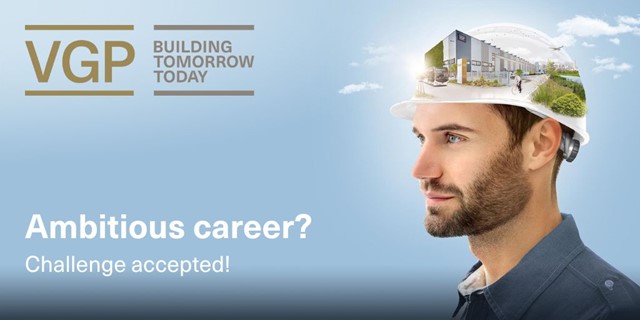 Civil Project Manager (m/f/x) - Italy
The Company
VGP is a leading pan-European developer, manager and owner of high-quality logistics and semi-industrial real estate. VGP operates a fully integrated business model with capabilities and longstanding expertise across the value chain. From layout to technological solutions, our service offerings include the development of "build-to-suit" solutions to meet our clients' specific needs. We also provide supervision of the construction work until delivery of the turnkey-project buildings, long-term leasing, and facility management.
Founded in 1998 as a Belgian family-owned real estate developer in the Czech Republic, VGP with a staff of circa 383 FTE's today is active in 17 European countries directly and through several 50:50 joint ventures. As of December 2022, the Gross Asset Value of VGP, including the joint ventures at 100%, amounted to € 6.44 billion and the company had a Net Asset Value (EPRA NTA) of € 2.30 billion. VGP is listed on Euronext Brussels (ISIN: BE0003878957). For more information, please visit: http://www.vgpparks.eu 
Our rapidly expanding VGP Italian company is looking for a motivated and experienced Civil Project Manager to plan and supervise a wide range of construction projects from start to finish. The candidate will be placed in the Italian office bass and will have to report to the Technical Director of VGP Italy. The ideal candidate should organize and oversee construction procedures and ensure they are in a timely and efficient manner.  He/She must be well-versed in all construction methodologies and procedures and able to coordinate a team of professionals of different disciplines to achieve the best results. The candidate should have experience in logistics and industrial field, developing projects from design, tender phase to the final work completion.
For our Italian office in Segrate (Milan) we are currently looking for a:
Civil Project Manager

Job Description:
Collaborating with engineers, architects etc. to determine the specifications of the project.
Coordination with the Permitting dept for building permit preparation and tender construction phases.
Managing the construction activities.
Review and approval of the development project schedule for what concern engineering, procurement and construction sections.
Review of overall progress report, budget and field construction activities to achievement of company KPI.
Ensure all permits, agreements and any other required documents are in place prior to project start.
Establish Project Meeting schedules, minute and follow up as required.
Preparation and attendance to negotiation meetings with suppliers.
Coordination and preparation to weekly site meetings with subcontractors, suppliers and consultants.
Monitoring and implementation of the project procurement plan and offers assessment.
Management of contractors in terms of cost, schedule and quality.
Preparation of Monthly Reports and Reporting to the top management.
Review project safety details/requirements with External Safety Manager.
Understand the requirements of existing customers to ensure their needs are being met.
Maintain sustainable and productive relationships with existing clients/tenants.
Assess risks involved with new initiatives, ensure deadlines are met and be ready to handle unexpected situations.
 Skills, Knowledge and Experience:
At least 5 years of experience in Construction and Project Management, ideally within an international company in logistic and semi-industrial field. 
BSc/BA in civil engineering, building science or relevant field.
The ability to read, understand and interpret technical drawings and specifications.
The ability to plan and develop and monitor project schedules.
The ability to develop the Bill of quantities and knowledge in unit prices.
Maintain a positive and collaborative relationship with the client and all stakeholders.
Excellent communication, interpersonal, organizational skills.
Ability to manage one or more Projects with varying degree of complexity.
Ability to complete projects on time and on budget while maintaining a high level of quality.
Ability to find and follow through on opportunities to maximize project profits.
Ability to work independently and drive projects autonomously.
Fluent written and spoken knowledge English.
Good knowledge of MS Office.
Willingness to travel within Italy.
 General Conditions and Remuneration
Location: office based in Segrate (Milan)
Term of Contract: permanent
Contractual Framework: to be agreed
NCLA: CCNL terziario della distribuzione e servizi
Remuneration: Salary to be agreed
To apply send your resume in English to: vgpitaly@vgpparks.eu
By sending your CV and any other personal information to the above e-mail address, you explicitly consent to the respective VGP entity processing those of your personal data, which you will provide, and to use such personal data for the purpose of evaluating your job application, as well as for the purpose of archiving such personal data for a period of three years from the date of receipt of the information. For further information, please see our Personal Data Protection Policy.