VGP and Allianz Real Estate partnership
The partnership with Allianz Real Estate consists today out of three joint ventures, all three in a 50:50 partnership.  The first joint venture was setup on 31 May 2016 and the second joint venture was setup on 1 July 2019 whilst both are focusing exclusively on the acquisition of completed prime logistics assets developed by VGP.  The first two joint ventures have a target gross asset value of €1.7 billion. 
In case VGP decides to sell an asset developed by the Group, the asset is first offered to the partnership on the basis of a 'right of first refusal'. Such transactions 'closings' are conducted at market terms.  The two ventures have their own specific geographical coverage and combined they cover all the markets in which VGP is active with the exception of Latvia.
VGP European Logistics S.à r.l. focusing on the acquisition of prime logistic assets in Germany, Czech Republic, Slovakia and Hungary
VGP European Logistics 2 S.à r.l. focusing on the acquisition of prime logistic assets in Austria, Italy, the Netherlands, Portugal, Romania and Spain.
Logistics remains a highly attractive sector, in established markets such as the Netherlands, Spain and Italy but also fast-growth ones such as Romania, and Allianz is focused on selectively building its exposure globally by working with prime partners such as VGP.  We are delighted to be once again working with VGP, an established leader in the European logistics sector and a firm with a proven track record of success and deep understanding of the dynamics shaping the market.
–Olivier Téran, CIO of Allianz Real Estate, 1 July 2019
On 2 June 2020, VGP and Allianz expanded their strategic partnership further by entering an agreement in respect of a third 50:50 joint venture for the development of a specific park, VGP Park Munich.  The managerial and governance setup of the VGP Park München JV is similar to the other two joint ventures between the two partners. However, whilst the other two joint ventures concentrate on the acquisition of income-generating assets developed by VGP, the third joint venture is initially focused on the development of VGP Park München.
VGP services the three joint ventures as its asset, property and development manager.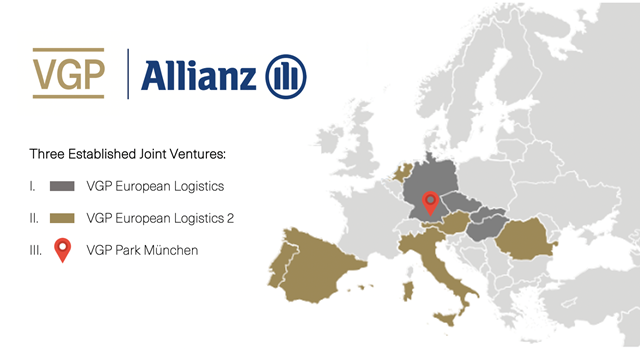 We are very pleased to build on our established partnership with VGP with the new development of VGP Park Munich. Logistics as an asset class remains a key focus for Allianz Real Estate, having grown our global exposure in the sector to more than EUR 6.6bn AUM.
-Kari Pitkin, Head of Business Development for Europe at Allianz Real Estate, 2 June 2020
We are delighted to further expand our partnership with Allianz Real Estate, breaking new grounds as we have found an agreement to develop our iconic VGP Park Munich together. This transaction is a testament to the quality of our development franchise, including our high-quality building and construction standards. Through this new partnership we are able to share the required capital expenditure, secure disposal proceeds and continue to invest in the expansion of our portfolio pipeline.
–Jan van Geet, CEO of VGP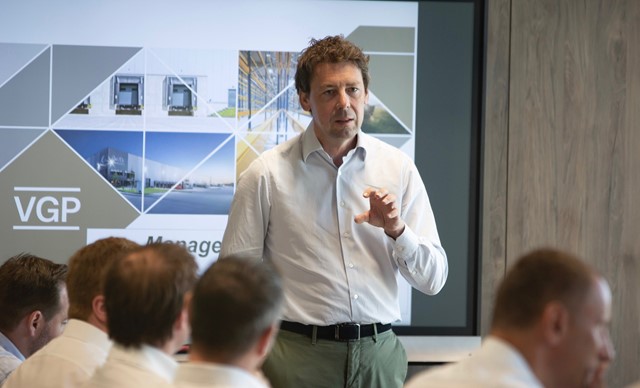 Structure of VGP joint ventures
All joint ventures are 50:50 partnerships between VGP and Allianz Real Estate
VGP serves both portfolios as asset, property and development manager
VGP European Logistics and VGP European Logistics 2:

Each has an investment target of €1.7 billion gross asset value
Right of First Refusal to acquire assets from VGP in designated countries

VGP European Logistics S.à r.l: Germany, Czech Republic, Slovakia and Hungary
VGP European Logistics 2 S.à r.l.: Austria, Italy, the Netherlands, Portugal, Romania and Spain

Act as long-term capital buyer at market value

VGP Park München JV:

First Joint Venture with Allianz to initially focus on the development phase
Sale of the park at agreed market yield
All construction costs are financed jointly